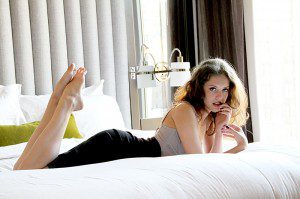 Hello! I'm Sarah White, the founder of Naked Therapy and The Arousal Plan. After graduating with a BS in Biology, I began conceiving of a therapeutic modality that could help people achieve richer, happier, more arousing lives by providing them with opportunities to explore themselves openly and honestly in the hopes of discovering and implementing unique and life-changing insights. In October 2010 I opened SarahWhiteTherapy.com. Since then I have provided Naked Therapy to hundreds of clients and me and my methods have been profiled on The Tonight Show with Jay Leno, The Morning Show Australia, CBS News, ABC News, The NY Daily News, NBC New York, FOX Business News, Playboy Radio, The Huffington Post, Salon.com and many other media outlets around the world. I was called "Sigmund Freud's Naked Granddaughter" by Viennese Journal Apdejt.com and was voted one of Wired.com's Top Ten Sexiest Geeks 2010. Since March 2011, I have written on sexuality, culture and the web, using the unique perspective I have gained as The Naked Therapist, on my blog, SarahWhiteDaily.com, and for other websites. In March 2012 I was featured with Dr. John Grohol (PsychCentral.com) at SXSW on his panel, "Online Therapy…Naked?"
For more photos please visit OnaGram.com.
I look forward to meeting with you!
Sarah
Click here to schedule a session with Sarah.
"The Italian Session" by Francesco Sapienza, "Sunday Morning" by Abdul Smith, the "Studio" by JM Darling.