You are always free to request selections from the lists below. I've found that requests tend to be very inline with your progress, and am happy to oblige.
1) Setup
text chat or voice chat
one way video or two way video
You are free to try out any combination of the above. Some people prefer to organize their thoughts by typing while some prefer to speak as the thought comes. Some prefer that the video is one-way (focused on me) for their own comfort while some prefer me to see them as well. Depending on your situation you may prefer different options for different reasons and at different stages of your Naked Therapy process. It's up to you, and I'm happy to consult.
2) Undressing
I typically start dressed and undress throughout the session.
As you progress we are likely to discuss other options such as starting nude, dressing, and then undressing, etc.
3) Outfits
I have a lot of different outfits! If there's a specific outfit you'd like but I don't have, let me know.
My standard first session outfit is a suit-skirt with black fishnet thigh highs, heels, and a red scarf. Below are more options:
Tights
black, black fishnet, or nude thigh highs
black or white garters with thigh high stockings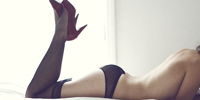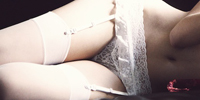 Underwear
thong or boyshort
black or colorful
black, pink, or white ruffles from Sway lingerie





Lingerie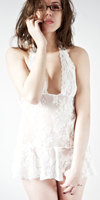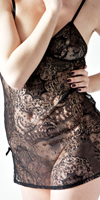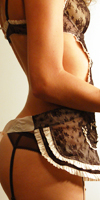 Costumes
sheer cheerleader bra and shorts
classic nurse
vampire
masquerade mask
elbow high black gloves
(Photos are a mix of me and other models)